If we speak about temples in Cambodia, you are probably immediately thinking of Angkor Wat. However, what most people don't realise is that Angkor Wat is just one of the many temples near Siem Reap. You probably know Angkor, as it's worlds biggest religious building and the national symbol of Cambodia. But in fact, there are so many temples that it's hard to know which ones are the 10 most beautiful temples of Angkor! Let me help you.
"Angkor", as the ancient city was called, was the capital of the Khmer empire. Estimated is that at its prime time, more than a million people must have lived around the temples. Every Khmer king ordered for his own temple to be built, mostly with the order to make it even more impressive than the one of his predecessor. Many of these temples are still very much intact, despite over a thousand years of wars, rain and other natural disasters. But which temples are really worth visiting? Let's check out my list!
Banteay Srei – the lady temple
Without a doubt, Banteay Srei is the most detailed temple of them all. It's not for nothing that this temple is called the "lady temple". This temple is 37km north of the archeological park but definitely worth a visit. I recently lost myself looking at these stock photos… you're welcome.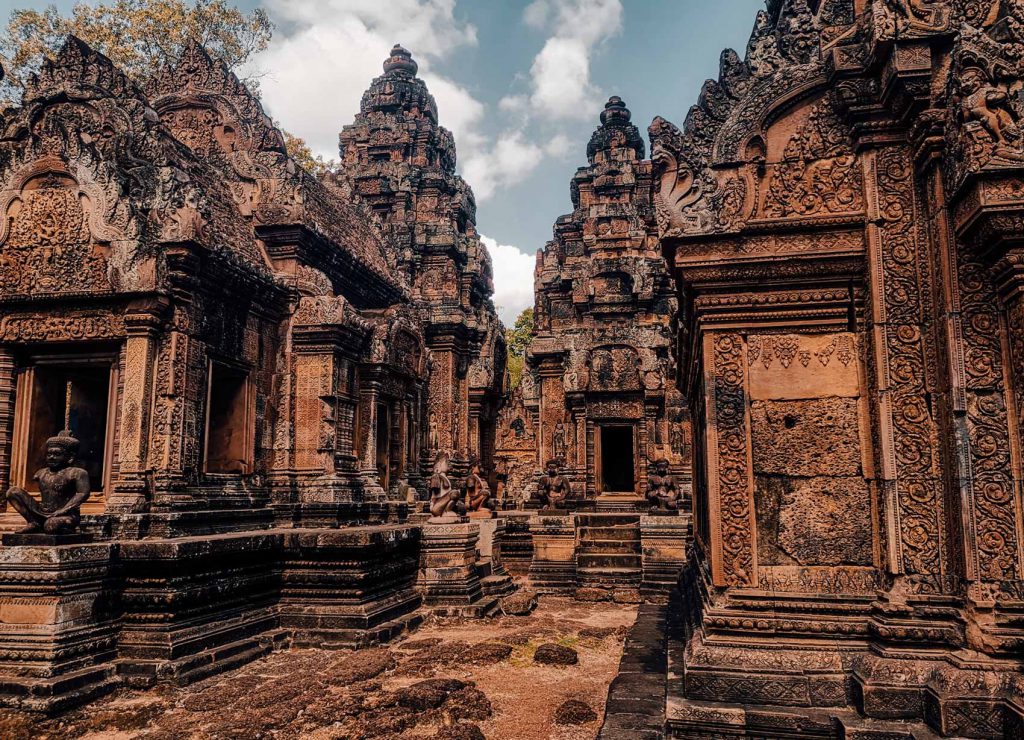 Banteay Samre temple
This second temple is just like Banteay Srei, just outside the archeological park. Other than its sister, it's less known by tourists, making it a perfect spot to walk around peacefully and taking photos. Personally I was especially impressed by the state of this temple, its condition is still very good and you can see a lot of details.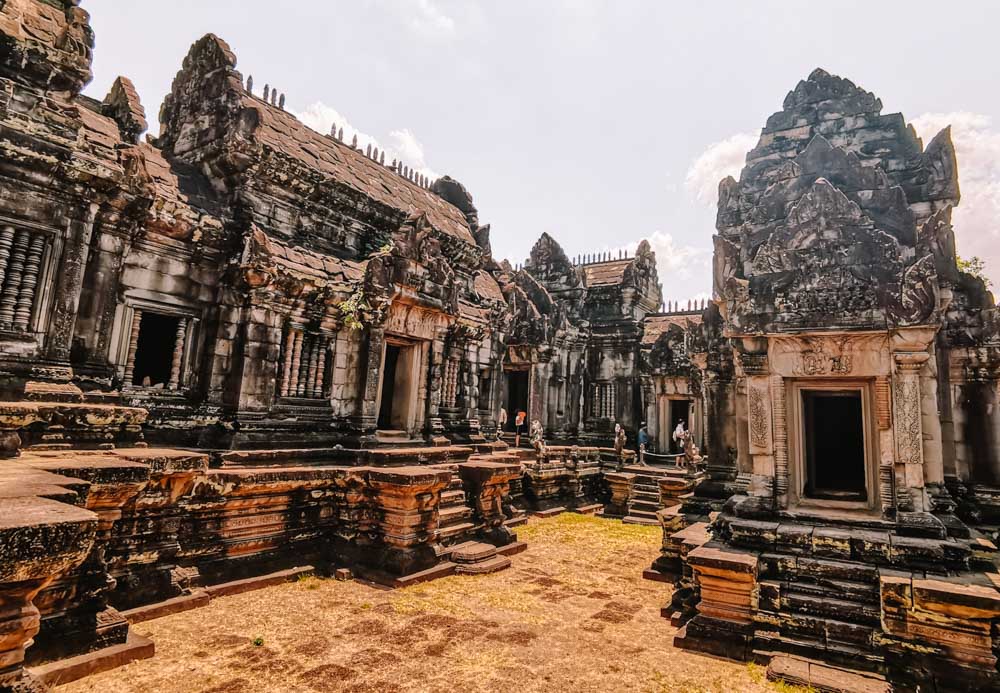 Banteay Kdei temple
How sick is this view?! Banteay Kdei is definitely my favourite temple of them all. It's big, has plenty of hidden rooms and you could easily get lost if you'd want to. It's also a good temple if you want to see the impact of nature after 1000 years.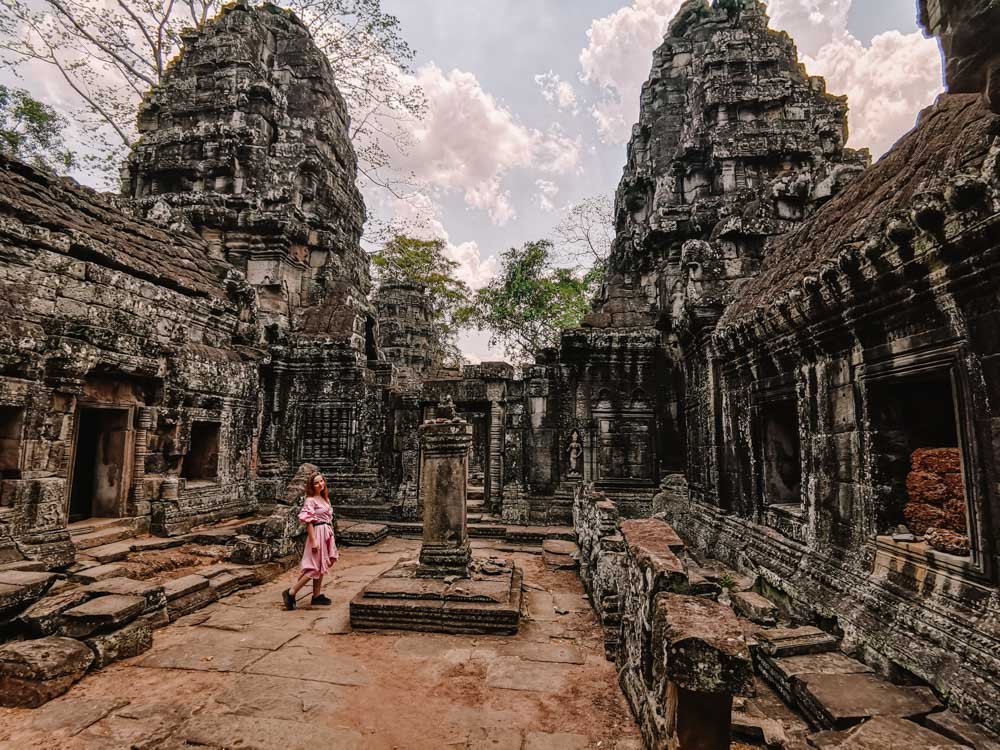 Angkor Wat
Ok. Ok. How can I make a list about the 10 most beautiful temples of Angkor and not include Angkor? I have to admit: it is worth it to wake up at 4am to see the sunrise at Angkor Wat. It has even been one of the high lights of my trip. It's been on my bucket list for a long time and I don't regret the sleep deprivation at all. Make sure you are at the temple at 5am and just cross your fingers that there won't be too many tourists…
The best photo's I've taken were while I was standing on the main bridge, right in front of the temple. Most people gather around the water to take photos of the reflection of the temple, so there weren't a lot of people on the bridge. As we visited during the dry season, there was barely any water to take a photo off anyway…
Most of the Chinese tour groups (and they count for 90% of the tourists) leave the archeological site after sunrise, to have breakfast in their hotels. This is a perfect moment to visit the temple, to avoid the crowds.
And by the way… don't expect too much of the view. But you want to be able to say that you've climbed Angkor Wat, don't you? 😉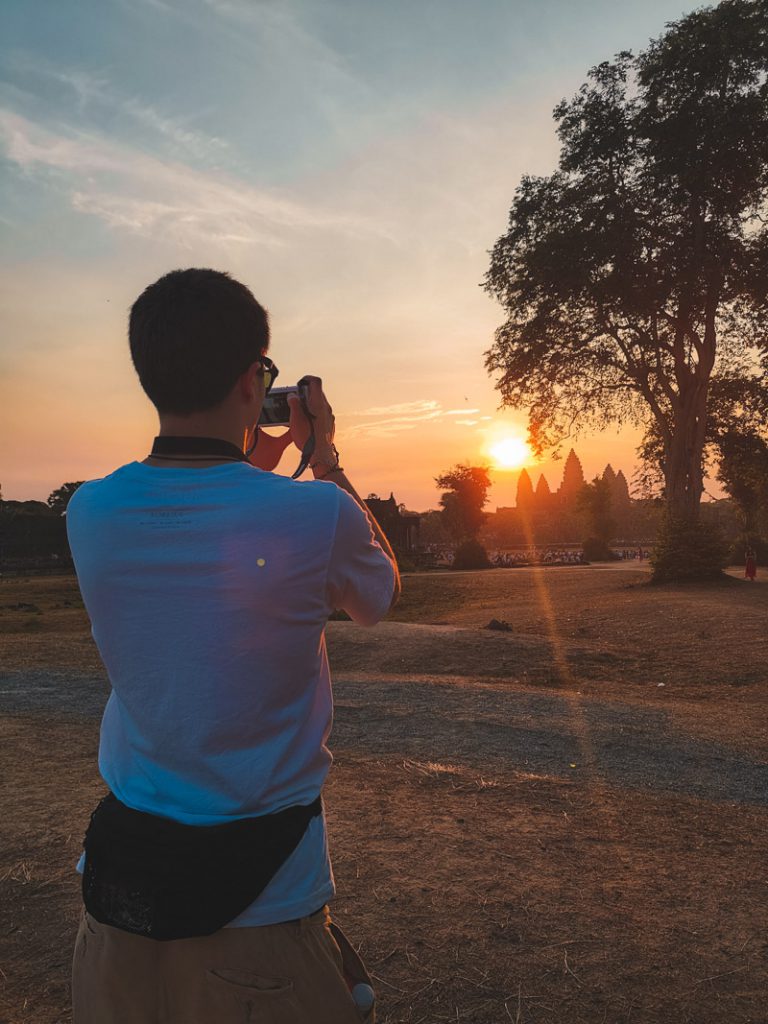 Ta Prohm temple
Maybe the name Ta Prohm doesn't ring a bell, but what if I tell you the Tomb Raider temple? This temple has been under maintenance since a long time now, but the vibe is definitely still there and indescribable. For a moment you really enter the ruins of Tomb Raider.
Obviously, this is one of the more popular temples, full of groups of Chinese tourists. It would be better to visit it early in the morning, when other people are still at Angkor Wat. Even though there are many tourist groups at this temple, it is very easy to go off road and find yourself some secret spots and enjoy the silence.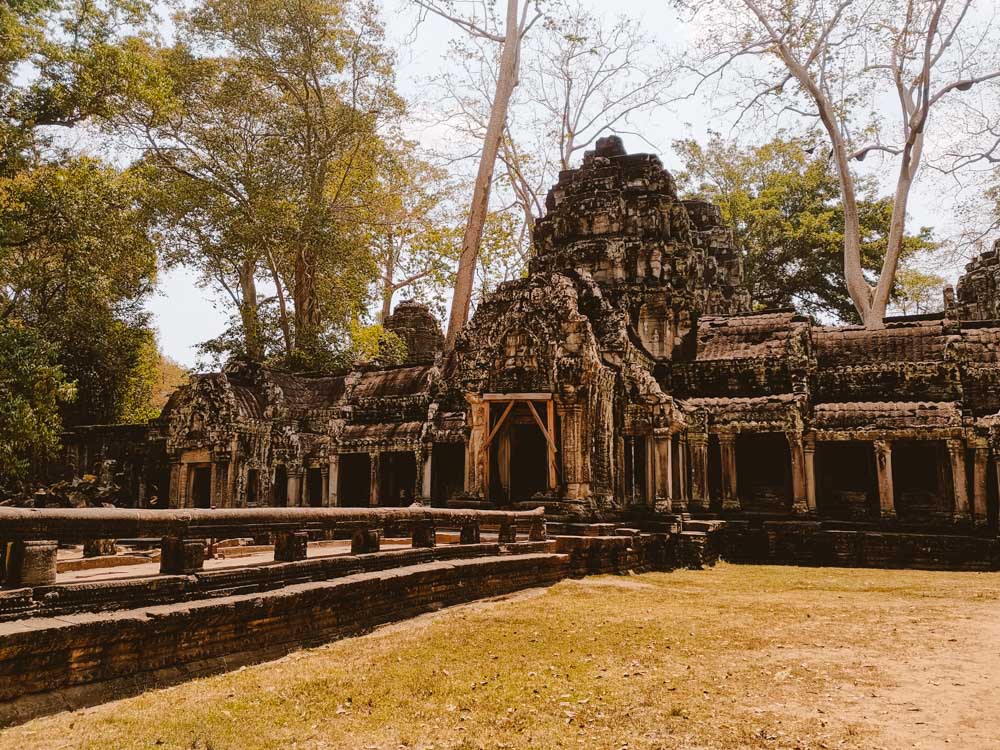 Neak Pean water temple
Ok, I agree: this might not be the best photo of Neak Pean, especially as a water temple should be… well, surrounded by water? We visited Siem Reap during dry season, making the magic of Neak Pean fade away a bit.
To get to the temple you also have to cross a very long bridge, with a lot of local vendors trying to sell souvenirs and there was even a traditional band when we were there.
Neak Pean is completely different from all the other temples, making it worth a visit.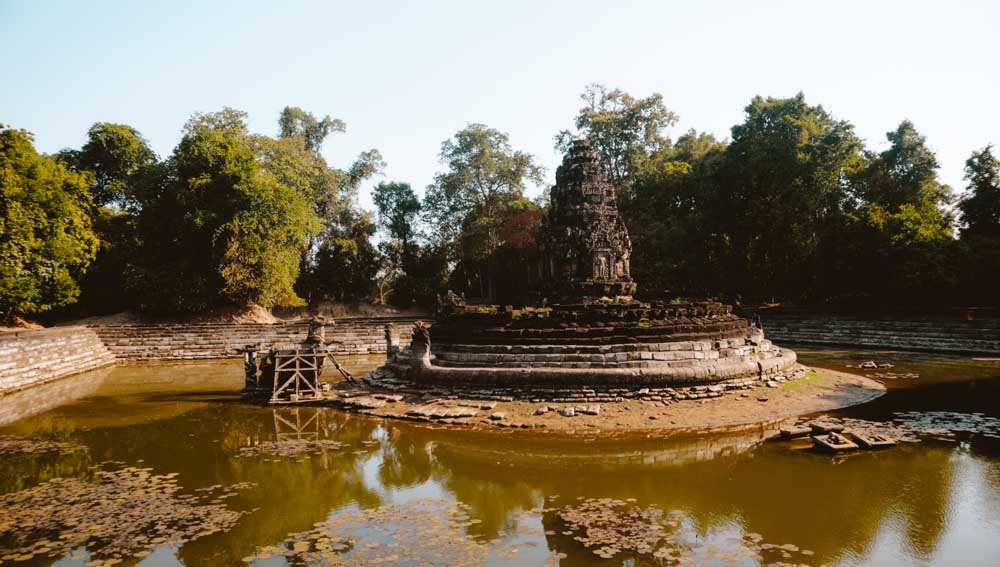 Prasat Pre Rup
This temple mountain is great for beautiful views! We visited it for sunset, one of the two magical hours in Siem Reap… 😉
The header photo of this article shows Prasat Pre Rup.
Prasat Ta Som
This smaller temple is mainly fantastic because of the nature that has been growing all around it for the last 1000 years. You could see it as the smaller and less preserved version of Ta Prohm, which means: a lot less tourists.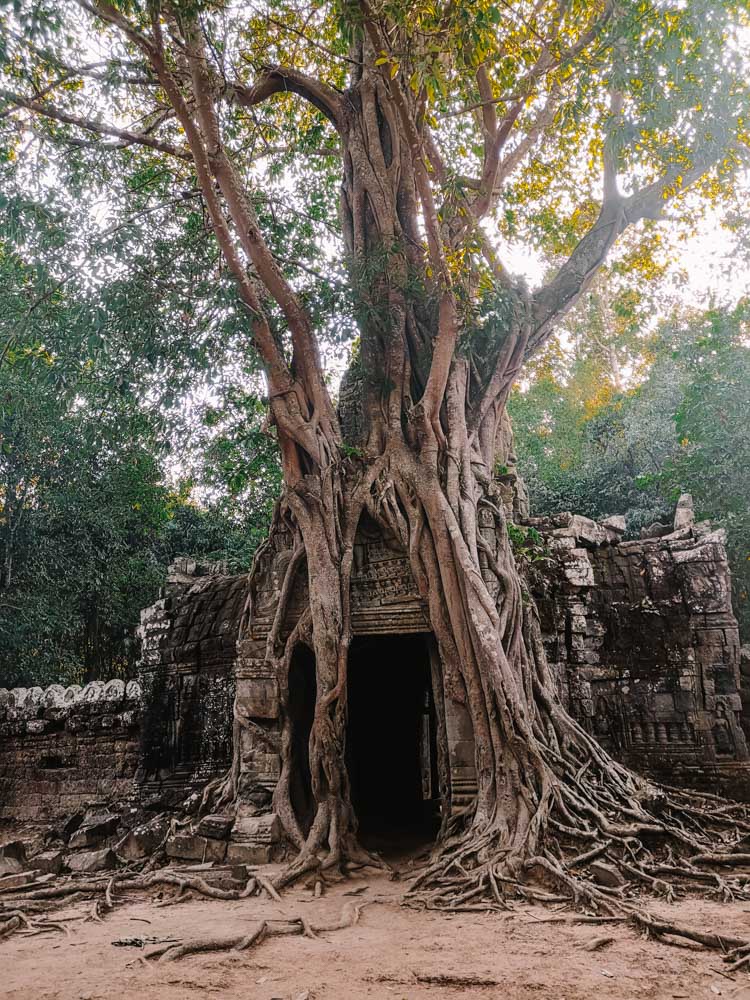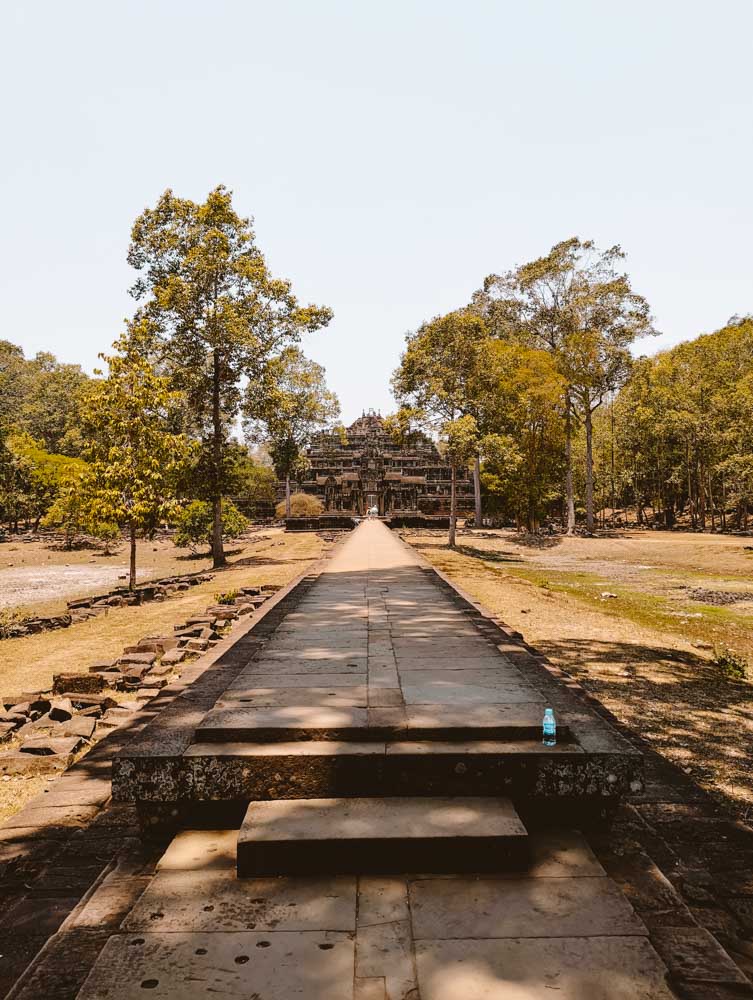 Baphuon
Baphuon is a temple mountain, containing three layers. For us it was our first temple and it surely prepared us well for what was to come after (especially the stairs). It's one of the bigger temples and you could easily spend one hour just admiring all its details.
Prasat Bayon
Let's finish this list with one of the Angkor all-stars: Bayon, the temple with the faces. It's a very impressive temple with many face-like sculptures, that be left out on your list. Bayon is part of the small circuit and very touristy, so try to come early to avoid most tourists.
I hope my list of the 10 most beautiful temples of Angkor has given you a good idea of what to expect! Have you been to Cambodia? Or are you using my blog to orient on your next trip? Why not take a loot at my 2-week Cambodia itinerary and guide? I also wrote about my expenses in Cambodia, you can find it right here.