Who says mainland Southeast Asia, says cheap travel destinations. Especially when compared to Western destinations, with often less culture and less good weather, countries like Cambodia, Vietnam, Thailand and Laos might be an interesting option to those travelling on a budget.
In this post I will set out the expenses we made during our two weeks in Cambodia. It should give you a clear idea of what budget you will need to set aside in order to travel comfortably. No more need to worry about your travel budget!
First of all: One great thing about Cambodia is that you can pay with American dollars. The dollar was initially introduced to the country to make it more attractive to foreign investors, and today it's used for over 80% of Cambodian transactions. The other currency in use is the Riel, mainly used for small transactions under 1$.
Hotels & accommodation
Before Cambodia, we had never been to Asia before. We booked our flight tickets quite randomly (you can read about it here), and had no idea how cheap it would actually be once we'd get there.
The first positive surprise came when browsing through Booking.com, looking at hotels. We are by no means budget travellers but we like to keep it realistic and choose mid-priced hotels. The only exception during this trip was the paradise island of Koh Rong Samloem, were we couldn't resist the beautiful photos of The One resort… Overall, our only criteria was to have at least aircon.
On average we paid 15.40$ per night per person while staying in hotels with air conditioning and a pool. However, if you're on a budget… no worries! Hostels are a good alternative, as prices vary between 3$ and 5$ per night. Generally speaking, prices stay quite stable all over the country with an exception of the islands (Koh Rong and Koh Rong Samloem) and hotel prices in Phnom Penh tend to be 10-20% more expensive than in the rest of the country.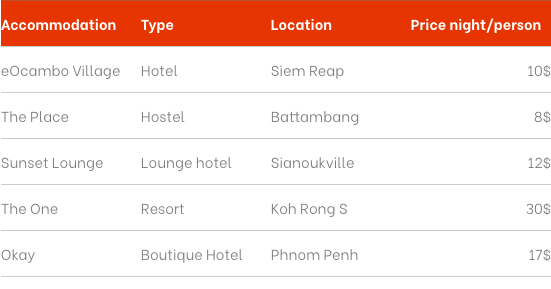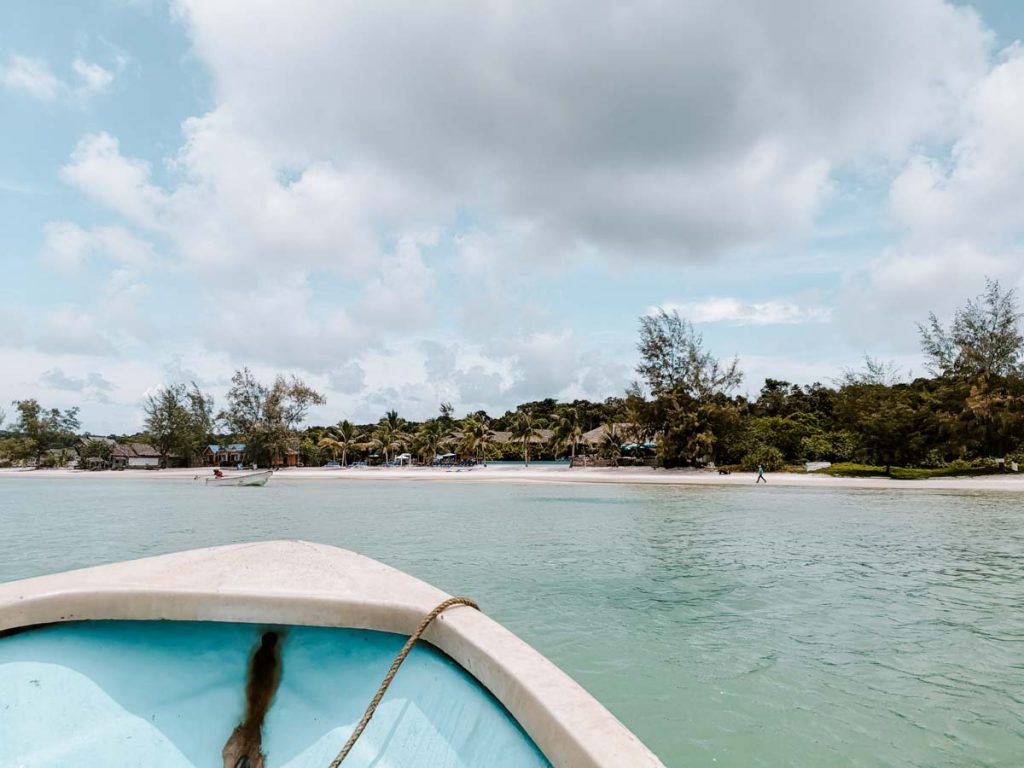 Food & drinks
Local cuisine makes my traveller heart beat faster! Cambodia is the perfect destination for people like me who love cheap (street-)food. Also good to know: in Cambodia taxes on alcohol are basically non-existent, making it a very cheap country for alcoholic beverages.
Average prices
Coffee/Thai tea: 1-2$
Beer: 0,50$ – 1$
Cocktails: 3$ (and 7$ at Koh Rong Samloem)
Bucket of alcohol (in Siem Reap): 7$
Street food meal: 1$
Meal in a local restaurant: 4$
Western meal: 6-8$
Transportation
Tuktuk
The most common transport for tourists in Cambodia is the tuktuk (or its official name: remork). Prices are negotiated up front and are usually never below 1$. In Siem Reap it costs about 3$ to go across town and 5$ to go to the airport. It's also very common to hire a tuktuk driver to drive you around town all day, for instance to go to Tuol Sleng and the Killing Fields in Phnom Penh. The driver will wait for you outside the museum/temple. On average you should count 2$ per hour for this, so in between 15$ and 18$ should be alright for a full day on the road.
Bus & plane
If you want to cover longer distances, mini-vans are a good option. Prices range between 5 and 11$ for trips between 3 and 9 hours. For instance, Siem Reap – Battambang cost us 6$. If you don't have any time to waste, you might want to consider taking a domestic flight. Cambodia has three airports: Siem Reap, Phnom Penh and Sihanoukville. We paid 25$ per person for a flight from Siem Reap to Sihanoukville (one way).
Ferry
Lastly, to go from Sihanoukville to Koh Rong Samloem it will cost you 20$ both ways.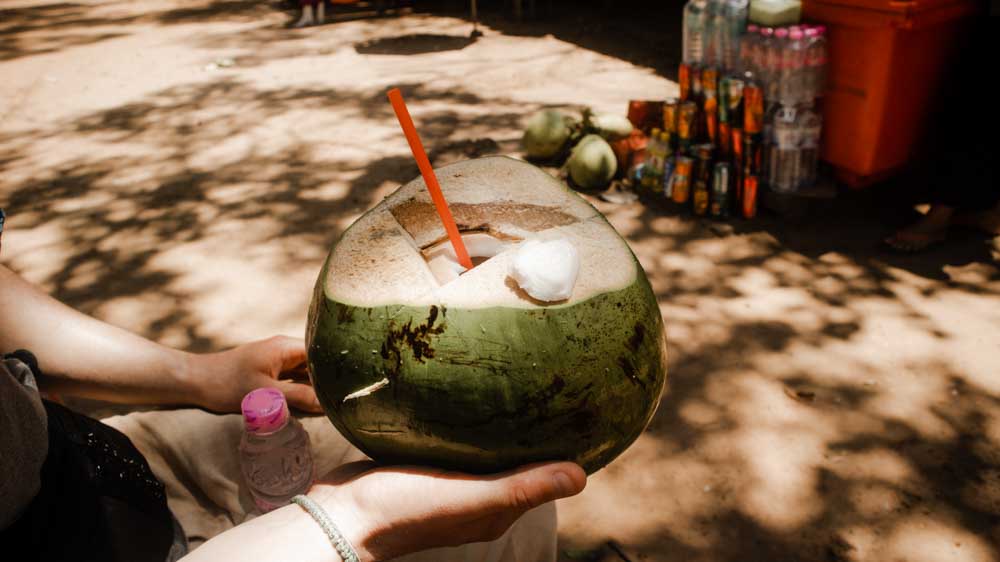 Culture & Leisure
I think the most expensive thing we have purchased during our stay was the entry ticket for three days in Angkor Wat: a 3-day entry ticket costs no less than 62$. In comparison to other prices in Cambodia, this is huge! We asked our driver Buffalo if the money raised by selling tickets goes back into the renovation and maintenance of the park – he really doubted this. After having visited the temples I'm also a bit suspicious as next to most temples there are big information boards explaining that a certain country has set up projects to finance and renovate the temple… However, a 2$ contribution goes to children hospitals in Siem Reap and Phnom Penh.
Other activities and museums like the royal palace, the Killing Fields, Tuol Sleng all have an entry fee of between 5 and 10$. The bamboo train in Battambang costs 5$ per person (but be aware that they sort of force you to tip after).
Pagodas are free to visit.
What budget do I need for tavelling Cambodia?
So, what budget do you need for travelling Cambodia? To summarise, per day you could easily get around Cambodia with a budget of 20 – 30$, if you decide to stay in a mid-priced accommodation. In this case, it won't be a problem to eat at restaurants and have an air conditioned room. However, if you decide to go low-budget, 10 to 20$ is definitely possible, including accommodation. Street food is always a good option and you won't have to spend a lot to have a great time. Without hotels included, think around 10 to 12$ of spendings a day.
Finally, as in most countries, prices will drastically increase once you decide to visit a lot of museums and do activities such as visiting Angkor Wat. If you anticipate 10$ a day for this, you should be alright.
Disclaimer
These prices are based on my 2-week trip to Cambodia in April 2019. Due to inflation and other economic influences, I cannot guarantee that prices always stay the exact same, but this guide should give you a good first impression of what to expect in Cambodia.