Maybe you're done with the touristy Thai beaches, Angkor Wat has been on your bucket list for a while now or you're just trying to find out what Cambodia has to offer… This guide is for you! I will prepare you the best I can for two weeks in Cambodia.
In this travel guide, I will share in detail all the ups and downs of my trip. Our trip was not exactly two weeks, but 13 full days. We arrived on day 0 in Siem Reap and left early morning day 14 from Phnom Penh. Needless to say that you could still follow this guide if you have a bit more time or if you want to start in Phnom Penh, for example.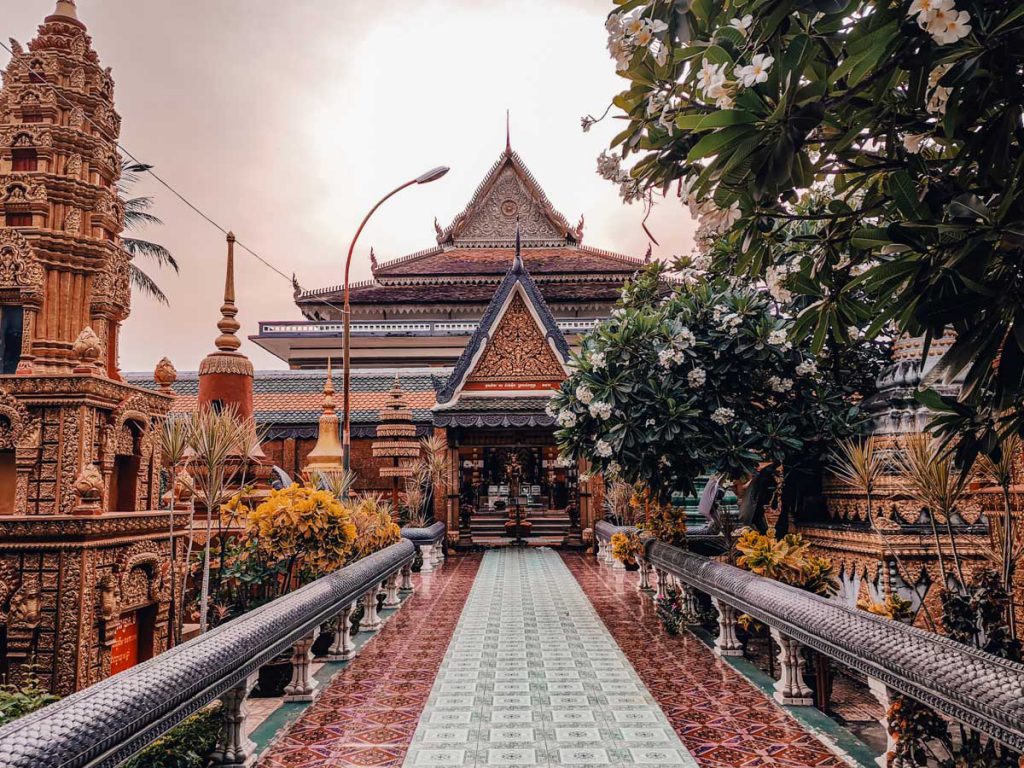 Day 1-4: Siem Reap & Angkor Wat
After a long trip via China, we arrived in Siem Reap, in the north of Cambodia. This city is the most well-known destination of the country, as it is home to the temples of Angkor Wat. Our hotel eOcambo Village had arranged a pick-up with a remork, or better known as tuktuk, from the airport. It's very easy to go to the airport of Siem Reap. You can go by tuktuk, it cost us around 5$ from the city centre. Usually, the other way around is a little more expensive. When we arrived at our hotel, we got help by booking excursions to the temples. We booked a three-day temple excursion with a private tuktuk driver Buffalo.
We decided to visit the temples for 'only' three days, but there are certainly people who will enjoy more days. After just one day we already figured that two weeks in Cambodia might not be enough for everybody… Haha. It's good to know that you can upgrade your ticket after you buy it. In total, we visited 19 different temples and I must admit that it was definitely enough for us. At day three, I developed a certain aversion that I can only call temple tiredness. I guess it was the combination of heat, climbing and scrambling and because eventually, all temples start to look alike.
Visiting the temples in three days
In three days you can easily do the most impressive temples. On day one we did the big circuit, with the sunset on Pre Rup. At the beginning of the day, Buffalo drove us to the main building to buy our tickets. At the 'entrance' of the archaeological zone, somewhere in the middle of nowhere, some guys will ask for your tickets. You must keep your ticket with you and also show it at the entrances of most of the temples. Day one was from about 10 to 6 (once it is dark in Angkor, it is really dark). Keep in mind that the park closes at 5:30 PM. There are however a few temples that close later so you can watch the sunset.
On the second day, we had planned to go to Banteay Srei. This temple is called "the lady temple" for a reason, the amount of detail is amazing! After this, we did some temples from the big circuit and around 2 o'clock we were back at the hotel. That evening, we discovered the nightlife of Siem Reap and I can confirm that it is mainly dominated by European backpackers. We have enjoyed ourselves, though! For very cheap you can enjoy yourself all night in clubs around the main street.
Day three we had a break at the pool, we visited the Wat Bo Pagoda and shopped at the night market. The centre of Siem Reap is very relaxed, despite the fact that it is very touristy. I really liked the atmosphere and everything feels very safe (well, except for traffic …).
On day four we got up at half-past three to admire the sunrise at Angkor Wat around five in the morning. It was well worth it and it is quite pleasant to be at the temples before the heat. The rest of the morning, we did the small circuit, which includes the most famous and popular temples. Around 2 o'clock we were back at the hotel. Logically there are many more tourists here than at the big circuit, but I would recommend the small circuit to people with tight schedules.
I also wrote an article about which temples I liked most, read about it here.
Dag 5-6: Battambang
In the morning of day five we took the bus to Battambang, the second biggest city of Cambodia. Our hotel had arranged our bus tickets and a pick-up. Unlike most countries, Cambodia doesn't have a train network and mini-vans are fastest way to get around over land. I read that another possibility to get to Battambang from Siem Reap is to go by boat, but this would take about 8 hours, while a bus takes about 3. In the end of the dry season (like when we were there), the water might be too low and it is possible that you cannot take the boat at all.
We stayed in Battambang's only city hostel, The Place. It's a nice hostel, with young and enthusiastic staff and a very nice rooftop terrace (I really recommend the spaghetti, but you shouldn't be in too much of a hurry if you decide to eat here).
Culture in Battambang
Because of the drought in the beginning of 2019, Cambodia had been facing a huge electricity shortage. Energy normally generated by the dams in the Mekong River left much to be desired, leaving us without electricity in Battambang between 6 a.m. and about 4 p.m. You can imagine that it's quite warm with 38 degrees Celsius… Fortunately, there were plenty of things to do. For example, on day five we did a city tour, arranged by our hostel. We saw, among other things, an abandoned cinema, bombed by the Khmer Rouge. In Battambang, you can also see the house where the film "First They Killed My Father" was shot.
The next day we did a guided tour through the rice fields around the city. We learned how sticky rice and spring roll sheets are made and saw a number of Khmer Rouge locations. We also did the Bamboo train, which was certainly fun but without a doubt the biggest tourist trap in all of Cambodia. It's basically one big scam, but that's what you pay for. The 'train' is only used by tourists. But hey, it was funny.
In the afternoon we followed the same guide to "the Killing Caves" on Mount Phnom Sampeau. The Khmer Rouge pushed innocent people to death in these caves. Temples can be found both in and on top of the mountain. Honestly, I found it very intense. Obviously you don't see anything, but it is certainly not a nice place to be. However, it was very impressive and if you are interested in the history of the Khmer Rouge, it is well worth it.
Once we descended again we saw a natural phenomenon, the "bat caves". This is a cave where millions of bats fly out of every evening.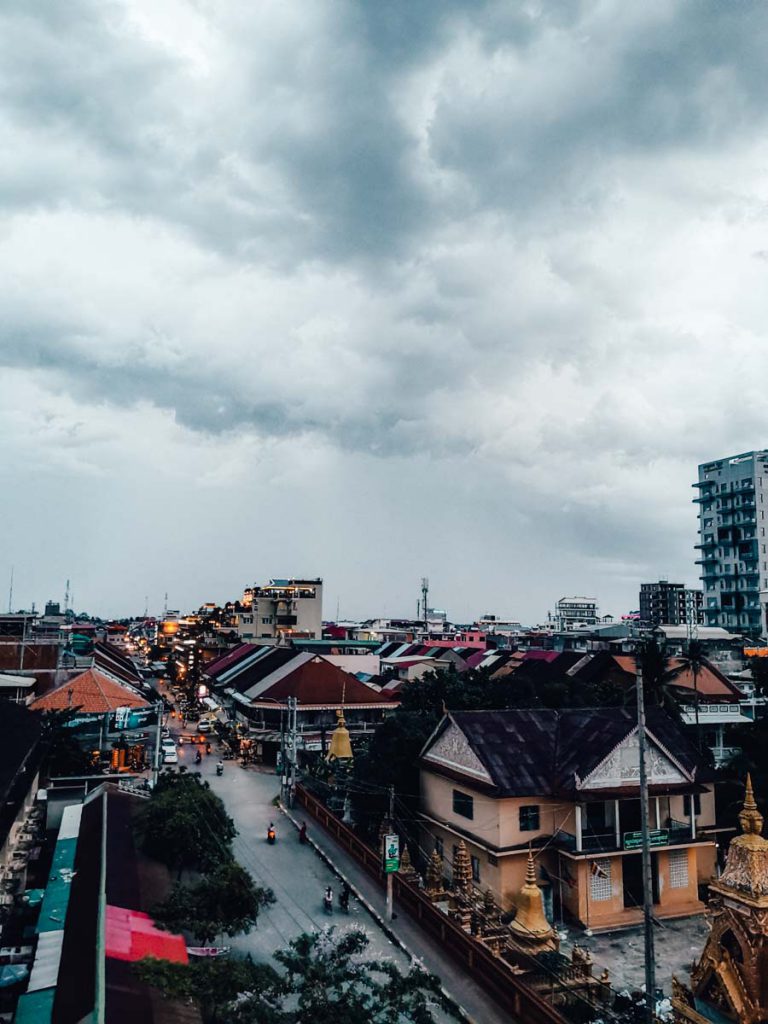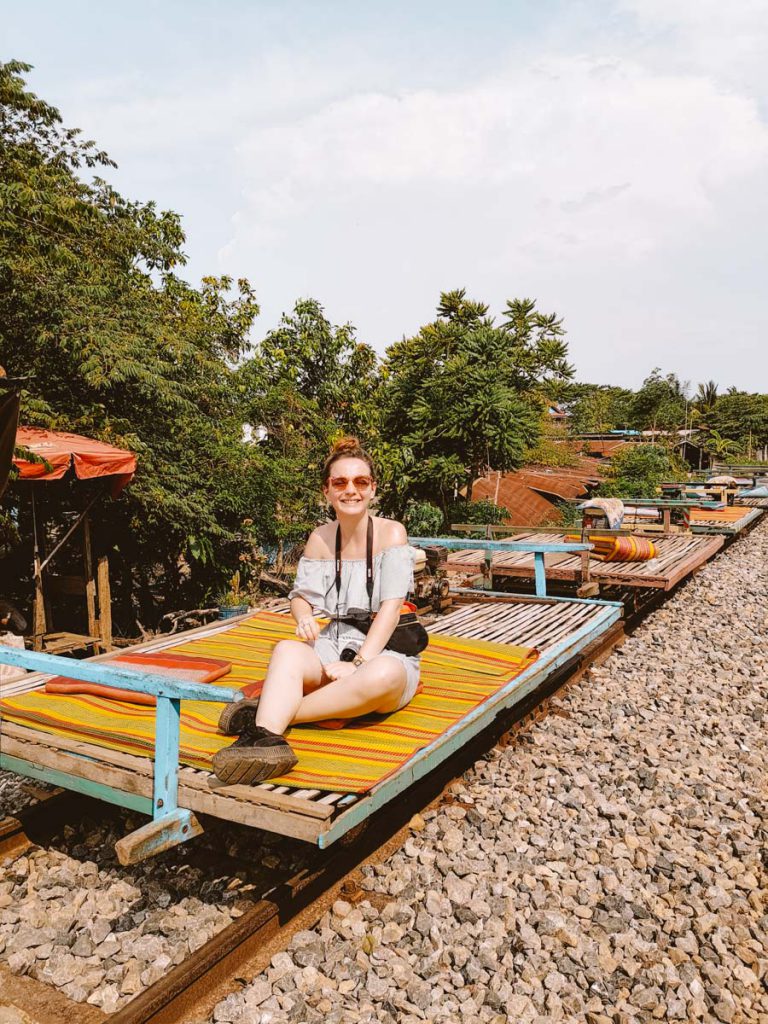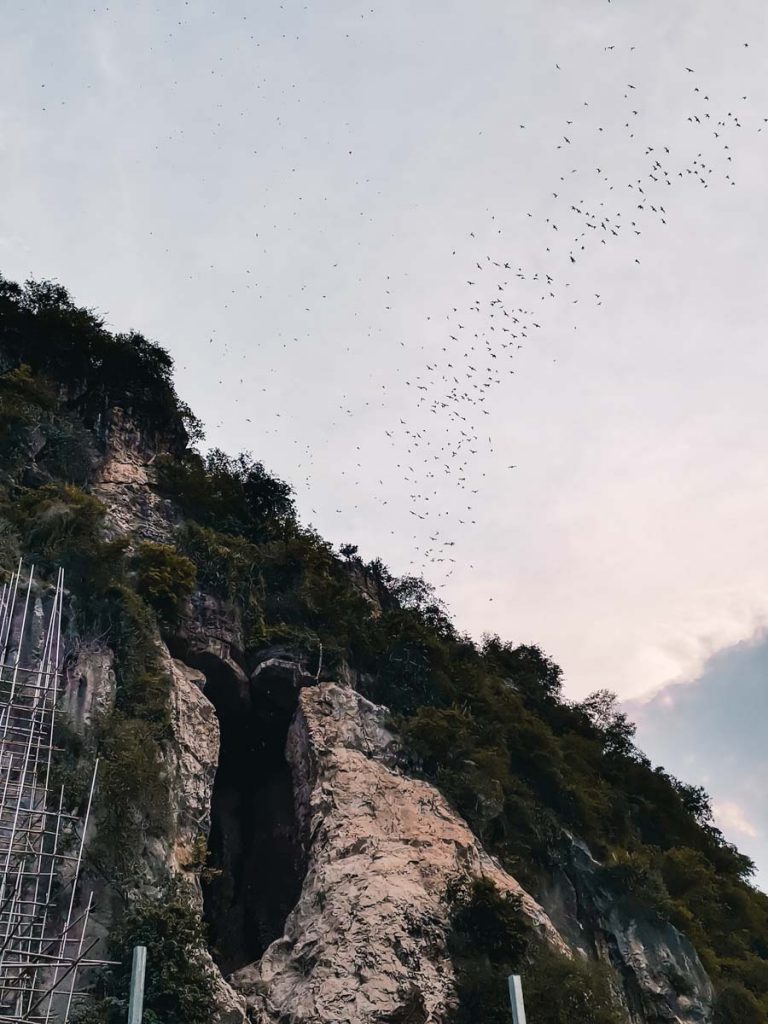 Day 7: day on the road Battambang – Siem Reap – Sihanoukville
On day 7 we took the bus back to Siem Reap, to catch the plane to Sihanoukville in the evening. The mini van was super fast and I recommend you book an airplane early in the afternoon, or even book a direct bus from Battambang to Sihanoukville (although a direct bus Battambang – Sihanoukville takes more than 12 hours). Unfortunately we lost a day here, because we only took the plane at the end of the day. So we spent our day in the spas of Siem Reap to kill time a bit :-).
In the evening we arrived at our resort in Sihanoukville, where we would only stay overnight to continue to the island of Koh Rong Samloem. Our resort Sunset Lounge was very beautiful and run by a German couple. I would not recommend Sihanoukville as a holiday destination. It is incredibly dirty and has been overrun with Chinese tourists, Chinese casinos and Chinese skyscrapers since 2018. So stay away, unless it's just for a night.
Day 8-10: Koh Rong Samloem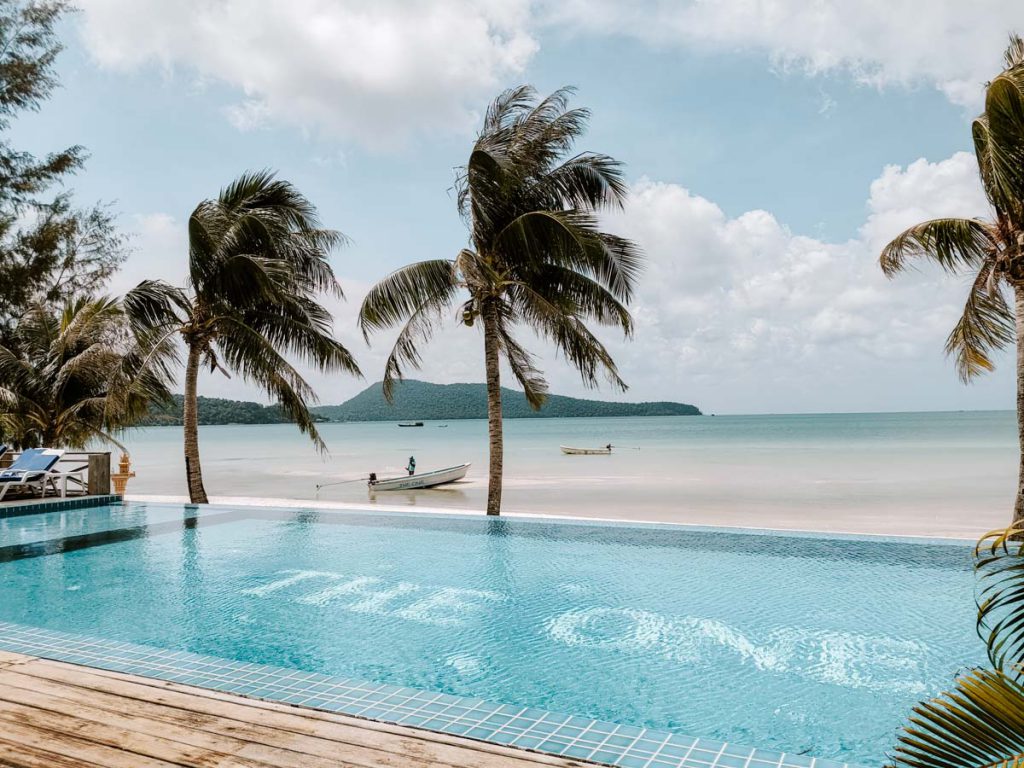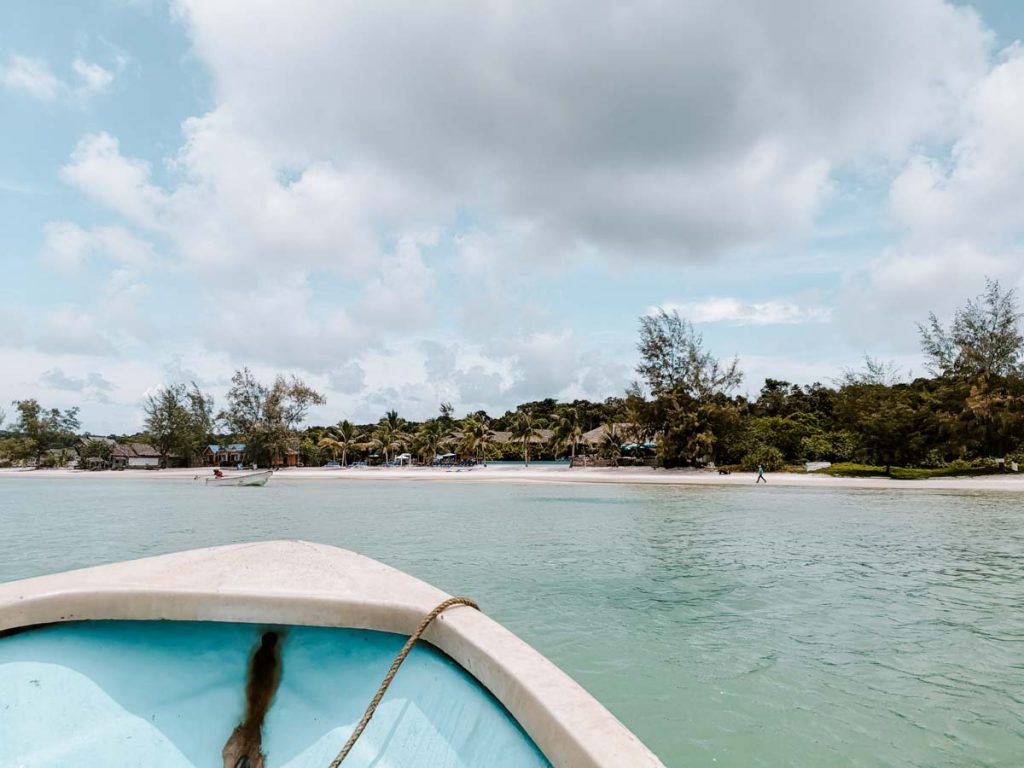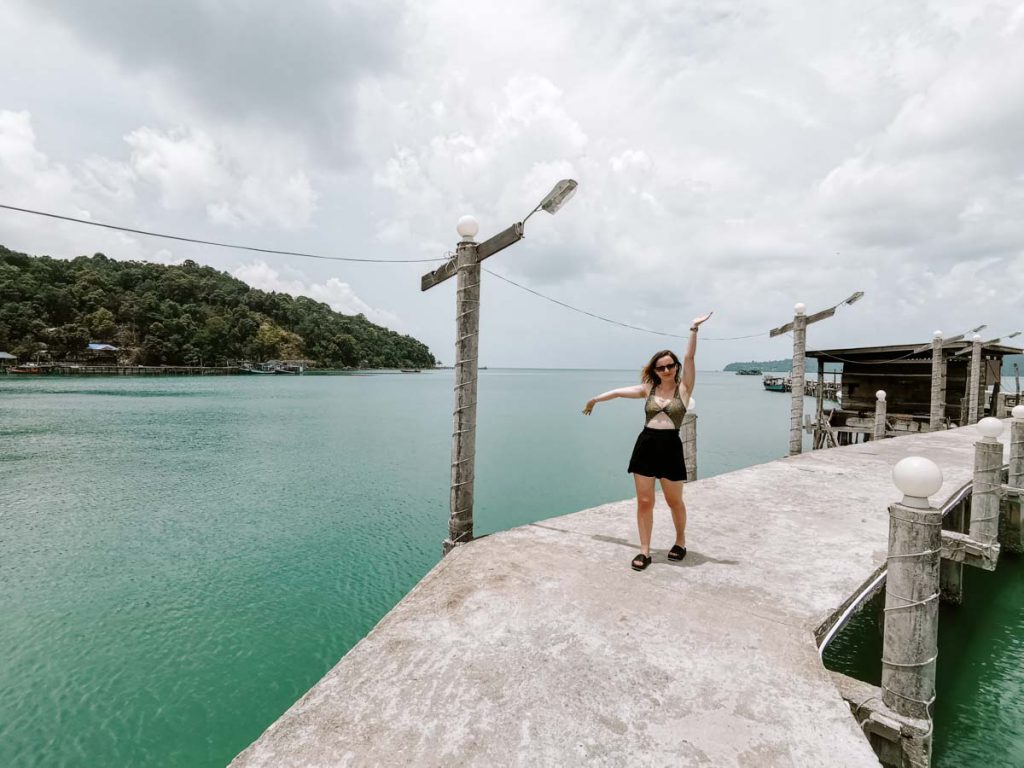 On day 8 we went to the port of Sihanoukville to take a boat to the island of Koh Rong Samloem. Unfortunately, due to the low water, the boat did not leave from the normal port and we all had to go to the trading port by bus. Fortunately, the boat trip only took about an hour. The moment we arrived at Koh Rong Samloem, we instantly forgot about everything: what a paradise! This is truly the example of an uninhabited island.
There are two islands off the coast of Sihanoukville: Koh Rong and Koh Rong Samloem. Samloem is the quietest of the two, Koh Rong is more known for being a party island. We chose the tranquility and stayed at the The One resort, including two swimming pools, one of which is an infinity pool…! This resort was on the pricey side, especially for Cambodian standards. But if your goal is to enjoy intensely, this is definitely the place to be.
We then spent three days on Samloem. There are plenty of bars to enjoy tasty cocktails all day long, enjoy fire shows and swim in the bay with plankton in the evening, which light up when you move your hands hard.
Because of the drought, we were unfortunately unable to visit the waterfall.
Day 11: Day on the road Koh Rong – Sihanoukville – Phnom Penh
We spent day 11 on the road. We had underestimated how much time it would take us to get off the island. Because of this, we almost missed our connecting mini-bus to Phnom Penh. We had booked the bus on the island and the lady assured us that we would be in time… Fortunately for us, the bus company was good and we got picked-up at another point, but really it was the worst ride of our trip!
First of all, because we were late, we couldn't sit on our assigned seats (and Khmer people are so kind and polite that I didn't dare to ask other people to move). There were only two seats left and there was a reason for this. The backrest of the seat in front of me had broken, which caused it (and the weight of the man who was sitting against it) to lay on my knees. Eventually, I convinced the driver that I had to sit in the front. Here I had a great view on several car accidents and on us taking very questionable detours… Needless to say that I didn't dare to close my eyes!
I had read that Sihanoukville to Phnom Penh takes about 4 to 5 hours, but not less than eight hours later we arrived. With the other two busses that we had taken we hadn't had any problems, so I would like to think that we were just very unfortunate with this ride. You should not drive your own vehicle in Cambodia, so we didn't have a lot of other options anyway.
Day 12-13: Phnom Penh
In Phnom Penh we had booked a room in the Okay Boutique Hotel. What a stunning hotel! The decoration is all in classical Khmer design and the location is good. And to make it even better… there is a rooftop pool with a great view!
The capital was wet during our stay. We saw a lot of happy faces from locals who had been waiting for rainy season to kick in. It was still on average 30 degrees Celsius, so the rain didn't really bother us. When we arrived by bus we found ourself a tuktuk driver almost immediately, and he proposed to drive us around the city the next day, as we wanted to go to the Tuol Sleng-museum (or S-21) and the Killing Fields, which are both memorials of the Khmer Rouge genocide.
I really believe that everyone who visits Phnom Penh should visit those two places, to get an idea of the Khmer Rouge history of the 70s. You can rent audio guides at both places, in my opinion really indispensable during your visit (they are even available in Dutch). The information is of high quality and it will give you a better understanding of the genocide and how people lived through these times.
On the last day in Phnom Penh we decided to visit some markets, like the Russian market, the royal palace and another pagoda. We also took some time to aimlessly walk around, just because there is so much to see. We had our last drinks and watched the sunset from a rooftop bar. Overall a good ending of a great trip!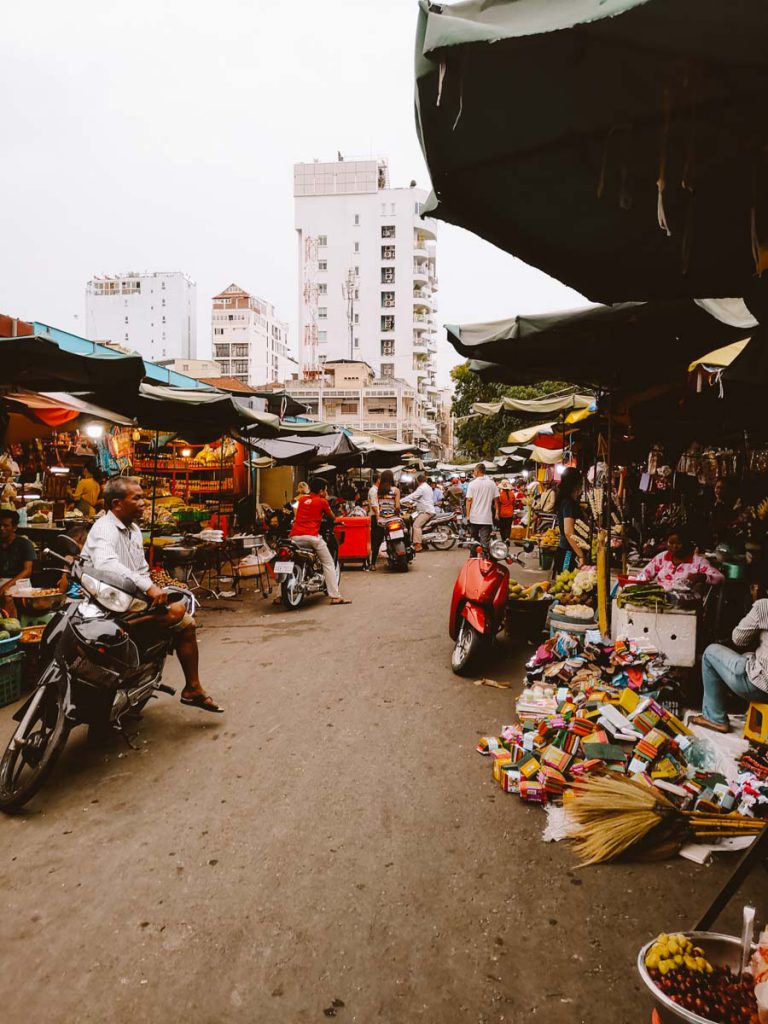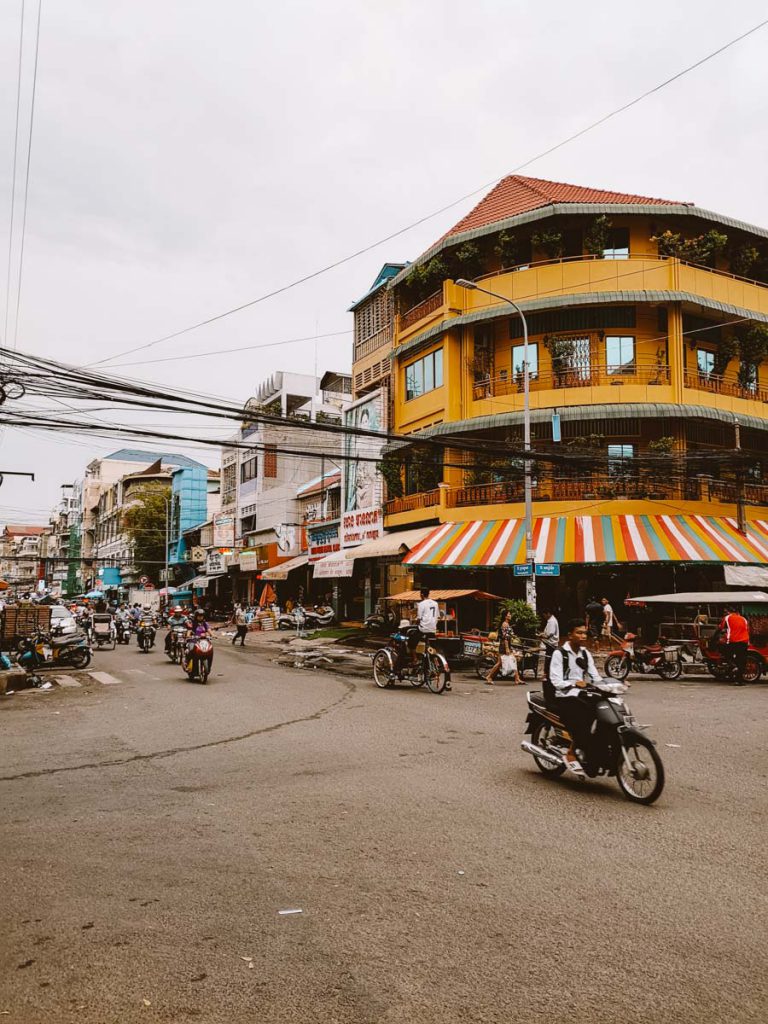 I hope this guide has given you a good bunch of information about some of the options you have while spending two weeks in Cambodia. Personally I loved our trip and the country, the kind people (who, by the way, speak English very well) and the history and culture. However, if you -like me- love to dig into the history of the countries you visit, you will notice everywhere in Cambodia that theirs has not only been greatness and temples. Diving into the Khmer Rouge history is both impressive and emotionally draining, but it has made me realise that I am very lucky to be born in a war-free country. Visiting Cambodia has been very enriching to me and at some points very much an eye-opener. An experience I vividly recommend to everyone!
Have you been to Cambodia already? Or is this article helping you plan your trip? Let me know in the comments! I'd love to hear from you 🙂